Shopping Cart
Your Cart is Empty
There was an error with PayPal
Click here to try again
Thank you for your business!
You should be receiving an order confirmation from Paypal shortly.
Exit Shopping Cart
Arresting Anger - Preventing Violence - Strengthening Families
| | |
| --- | --- |
| Posted on November 15, 2013 at 12:34 AM | |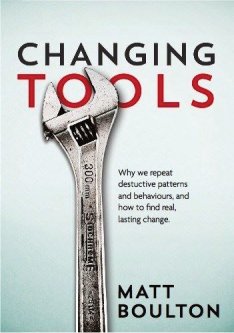 A tree saw - that's the only instrument Dr Payne ever carried; the only one he ever needed.
To the folks of Nyevia, he was the island's only brain surgeon. Sure, it was well known that his procedures usually produced more than their fair share of blood and gore. If patients were lucky enough to recover, their recovery would always be a long and difficult ordeal. Persistent infection and lifelong profound scarring were almost taken as a given but, for Dr Payne's patients, he was their only hope and last resort.
For 14 years Dr Payne would have his successes and failures, and no one could dispute that he was improving over time as he became more skilled in the delicate use of the tree saw. He was, in fact, a master of the art; perhaps the world's finest tree saw-wielding surgeon of all time.
At first, when he began to hear reports from the other islands about the use of the "scalpel," Dr Payne was sceptical. After all, how could such a tiny instrument really have the muscle for brain surgery? And how long might it take to train himself from scratch in the use of a new tool? How could it be worth throwing away all those years of being the best at something? Surely it was better to stick with what he knew, and not allow some passing fad to complicate things?
The first time Dr Payne succumbed to using a scalpel, he didn't even realise he had made an incision. Where was all the blood which usually accompanied this kind of work, he wondered? It seemed all too easy, and he could see that stitching was going to be a dream. Before long he also noticed a few other changes. Wounds were healing a whole lot quicker than before, and infection was now a rarity. Patients reported less scarring than they might have expected. Survival rates became a pleasant surprise. "This scalpel thing," mused Dr Payne, "could really take off."
I'm sure it would come as no surprise to learn that Dr Payne never did return to his trusty tree saw. Like you, I and the majority of the human race, Dr Payne tended to avoid any extra work which did not produce a positive outcome. He also avoided inconvenience unless it was absolutely necessary, and pain unless it was producing some kind of profit (his own pain that is). That's why Dr Payne was initially not interested in adopting this new "scalpel"; because doing anything new always involves some degree of inconvenience, new work, and often pain.
*   *   *   *   *   *   *

As a twelve-year-old boy, I used to enjoy working on my bike - tightening the nuts, adjusting the brakes, and generally trying to keep it maintained the best way I knew how. I had an old shifting spanner which was good for just about everything, since I could just keep adjusting it to fit each and every nut; from the large ones on the wheels right through to the tiny nuts on the brake cables.
At times it was frustrating that the shifter kept slipping off the nuts, scarring my knuckles and putting rounded edges on the nuts. But as far as I knew, this was the tool for each and every job. Like Dr Payne, I was not looking for another tool. I was happy enough with what I had.
One day a teenage neighbour who was more mechanically savvy asked me why I was not using a spanner. I can still remember his words to this day: "You don't dig a hole with a teaspoon when you can use a shovel." I reluctantly tried using a set of spanners, and have never looked back.
That day I learned a valuable lesson about myself and about human nature:

"we will continue to use any tool which is working for us, even if it is not the right tool, and even if it may be causing other problems for us or those around us"
What about you? If you take a moment to stop and think, can you identify any broken or blunt tools which you keep picking up? Do you have any habits or behaviours which continue to cause problems for you, and yet you somehow continue to pick them up again and again? Some of us might even be wondering whether we will ever be able to be free of our particular troublesome tools.
For some, a blunt tool might be an addiction which helps us cope with a lot of internal pain we are going through. For others, a blunt tool might be a relationship we are using to feel secure, or even a person we are taking too much responsibility for because it makes us feel like a "good person" when we help them. Sometimes rage or abuse can be the tools which people reach for in order to be heard, respected or taken seriously. For some, obsessive-compulsive, anxious or controlling traits can be the levers they use in an attempt to feel in control of some small part of their own "out of control" world.
For many of us, a blunt tool may have been the best tool a parent had to hand down to us. Some become family heirlooms, faithfully handed down from generation to generation. For some of us, the tool may have just been something which we desperately grabbed for during a pressured or traumatic moment; perhaps when we were too young to know how to respond in the way that a rational adult might do.
The really good news I hope to convey is that irrespective of how blunt or broken your tools are, what type or shape they come in, and where you found and first picked them up, the same key principle applies to you as to everybody else: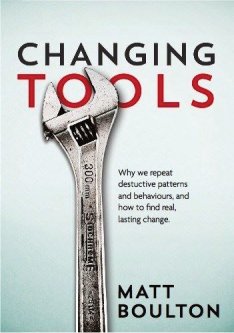 When you at last find the best tool for the job, you will never return to the old tool, since doing so would only be choosing to accept something unnecessary and inconvenient.
Just like Dr Payne, your innate human bias towards laziness is not only your problem; it will also turn out to be your saviour. We are not only too lazy, but also too clever to continue using a redundant tool. The truth is, you have not yet discovered the best tool for each and every problem, situation and relationship which you are going to encounter. There are better tools out there waiting to be found, picked up and trusted.
The question is, how will you know when you have found them? "Changing Tools" is about knowing where to look for better tools, how to recognise them when you find them, and what your broken and blunt tools can teach you about yourself.
This has been an excerpt from the new book "Changing Tools." If you would like to continue reading and purchase copies for yourself or for friends, you can order them
right here.
Categories: None
/